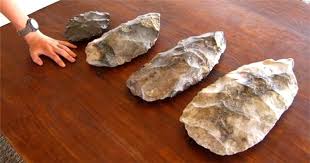 Approved: No
Mystery Type: Artefact
Mystery Name: Giant hand axes in Morocco
Latitude: 34.146351
Longitude: -3.215302
Country: Morocco
Place Name: Ain Fritissa
Description:
The over dimensional hand axes found in Ain Fritissa (Eastern Morocco) are very interesting, because useless for our ancestors: 32 cm long – 22 cm wide – 4.2 kg heavy. If we assume the normal constitution of man, beings who could deal with such clumsy devices must have been about 4 meters tall. We have many indications in literature and findings, that giants once really existed on our planet.
Unsolved Mysteries:
Who built it?
Proven Facts: Finding is real
Type: Metal
Culture:
Age Dating:
Discovery Date:
Linked Mysteries:
Linked Mysteries:
Publications:
Wikipedia:
Links:
Mystery Pictures:
Pictures of Websites:
Video Links:
This mystery has been reported by Lobcor on 02/03/2018
Additional information or updates from users:
No Entries Found
Additional comments from users:
No Entries Found
Add a comment or an additional information please:
You do not have permission to view this form.